Opportunity in Gambia
Skill centres cater for girls aged 17 to 20 who have finished with or opted out of education at 12/13 years of age.

The majority of the students come from areas near the three designated mission schools however, some travel long distances in order to join this much sought after "last chance" option. Their educational standards vary greatly but generally, they have many difficulties with English and Maths. Lack of relevant textbooks is a further drawback.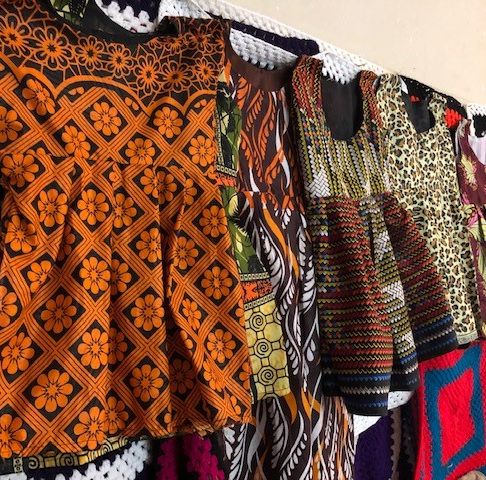 Sample of fabric work from St. Peter's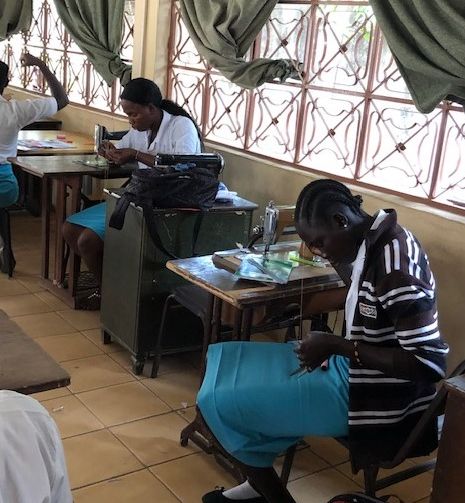 Needlework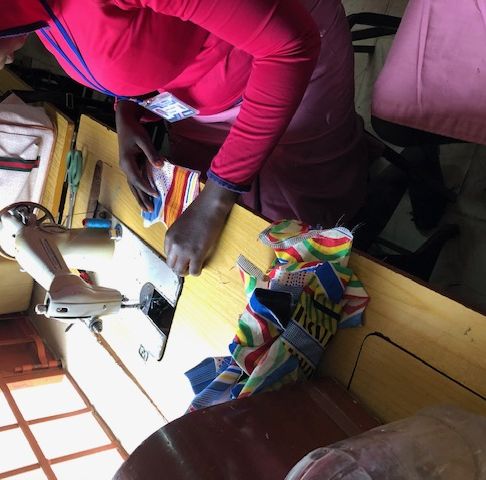 Sewing is a valued skill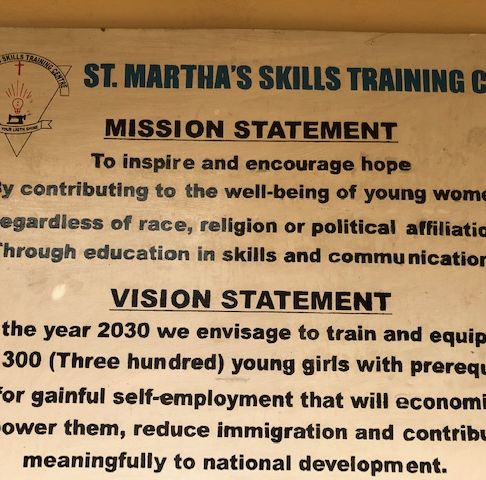 St. Martha's SC Mission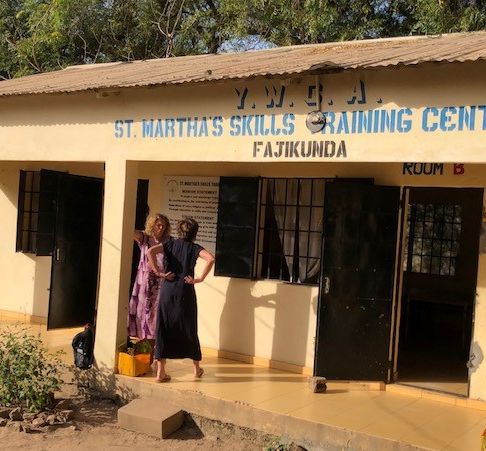 St. Martha's SC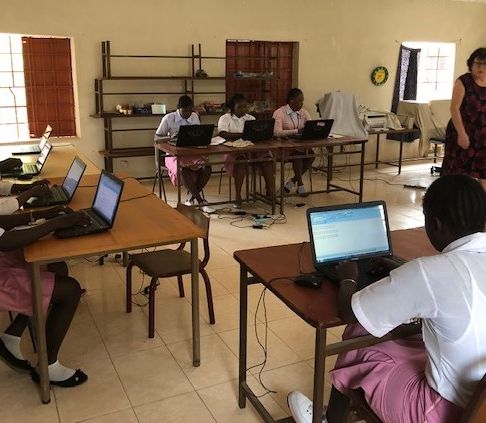 Computer Skills Class St. Peter's SC
Ciaran Black spends most of the academic year in The Gambia working at St. Peter's Skills Centre which he has supported since 2011. Windows have been installed in the classrooms, potholed classroom floors repaired and tiled, replacement desks commissioned locally, modern ladies toilets installed and leaking ceilings repaired.
In 2013 a GIVE volunteer with the help of his school in Ireland provided the Skill Centre with 10 new laptops. These laptops were pre-loaded with software suitable for the teaching of basic English and Maths. They were also loaded with a programme called Touch Type, Read and Spell. This programme is specially designed to improve typing skills as well as reading and spelling and is ideal for the needs of the students in the Skill Centre. In 2017 GIVE enabled Presentation Skills Centre in Banjul to purchase some laptops for use in the Business / Commerce programme in the centre.
Over the years GIVE volunteers have supported the teaching of English, Maths, French, Home Economics, Business Skills, Secretarial Skills, Health Studies and the preparation of Curriculum Vitae.
Since 2016 students with poor reading skills are given priority and a literacy programme suitable for young adults is delivered by GIVE volunteers. Emphasis is placed on Oral English using the students' experience as a starting point and the reading skills programme is designed to meet a variety of levels of need. GIVE has purchased a stock of reading material for use by the volunteers - reading material that is more culturally appropriate for the Gambian learner.
GIVE supports three Skills Centres in The Gambia, St. Peters in Lamin, St. Marthas in Fajikunda and Presentation in Banjul.
Email us:
giveireland@gmail.com