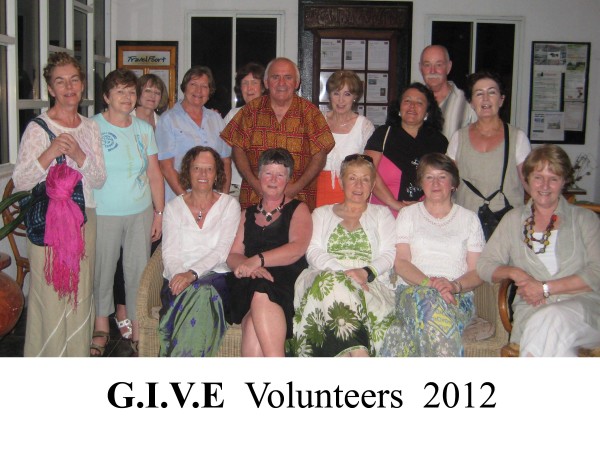 REPORT JAN/FEB 2012:
Three Areas were targeted as areas where help was needed and could be effective as follows.
Report on Mentoring Trainee Teachers

Workshops for teachers in Nursery Education

Skill Centres
Mentoring Trainee Teachers
In January and February 2012 fifteen retired teachers (12 Primary plus 3 Post Primary) volunteered their services through GIVE to work alongside their colleagues in The Gambia.  Seven of these teachers were allocated to schools to support trainee teachers in the classroom. Trainee teachers in The Gambia spend the first year of training at the Gambia Teacher Training College (GTTC). They then work in Lower Basic Schools (primary) where they are mentored and monitored as far as possible, returning to the college during holiday periods for further in-college training.  The support offered by the Irish teachers was appreciated by Ms Isatou Ndow, the Educational Director of the GTTC, who welcomed the teachers at the start of their visit.
It was clear from the outset that the young trainee teachers encountered had the motivation and ability to become the backbone of a very fine body of teachers in the Lower Basic Schools of the future. The trainee teachers need all the support they can get now, to make this a reality for the future. It was clear to us that there are a number of serious challenges that need to be addressed to make this a reality.
Not least among these is learning the skills necessary to deal with the demands of the national curriculum which is heavily loaded at all levels.  It is difficult for trainee teachers to put their training into practice under this pressure.  Teaching strategies that are child centered and require time suffer accordingly.  The traditional used teaching practices of chalk, talk and transcription are mostly resorted to leaving many individual pupils, who would benefit from different methodologies and more time, struggling. The rigidity of the timetable ensures a structure to the school day but leaves little scope for a creative response to the needs of children.  It was heartening to encounter high levels of enthusiasm amongst the trainee teachers in spite of the challenges they encounter.
As class size is outside the control of trainee teachers, it would be hugely beneficial, in an ideal world, for trainee teachers to work in classes where numbers do not pose such a very demanding challenge.  It is difficult for an inexperienced teacher to manage group teaching where there is a very large class and where our support would be an advantage.  With the encouragement and benefit derived from good mentoring and regular monitoring, new and enthusiastic teachers, fresh from the GTTC would be willing to try group work. This support would give the new teacher the courage necessary to be innovative and to try new methodologies.  Good support of this kind would also expose the trainee teacher to a broad range of classroom management skills and strategies.  In a manageable environment, these young teachers would also be in a better position to make and use the resources that are so essential to good teaching and to help the children appreciate the importance of respecting each other and their environment. Ongoing workshops with talented and experienced mentors would be of great help.  The selection of the most enthusiastic and gifted of teaching staff as mentors is important.
We believe that in an ideal scenario marked educational outcomes would derive from offering trainee teachers two years in college before they find themselves at the helm in a classroom. We are aware that this may not be possible at the present time.
Conclusion
In conclusion, we see a role for GIVE volunteers, in cooperation with the Teacher Training College in the future supporting the trainee teachers.  This would entail familiarising oneself with the areas of the curriculum to be taught, sitting together and planning lessons, making resources with the teacher, modelling individual lessons and working on joint lessons together. Classroom management strategies could be discussed and tried. This would be a hands-on experience for the mentor and should provide a supportive and encouraging experience for the teacher.  In brief the mentor would be involved in (a) planning together with the trainee teacher, (b) teaching and managing the class together, (c) modelling a number of teaching methodologies including shared teaching of the class and (d) preparing together a number of teaching resources from locally sourced materials found freely.  Teaching and learning would be assessed on a daily basis, always with reference to current best practice in teaching.  This would be an active partnership.
By working alongside teachers in this way, we would hopefully be giving these trainee teachers experience in methodologies and management skills that would contribute towards making the large class a 'Manageable Environment'.
It would be ideal if one member of the group could arrive in The Gambia ahead of the main group to do some preparatory research on schools and classes to be worked with.
The volunteers are very positive in their response to their experience with the trainee teachers and look forward to further development of this project.
GIVE Workshops in Nursery Education Jan/Feb 2012
During the months of January and February 2011, a group of ten retired teachers from Ireland came as volunteers to the Gambia, for the purpose of sharing experience and teaching skills and to work alongside teachers in the Gambia's Lower and Upper Basic Schools. Towards the end of the six week period, and following consultation with School Principals, Education Co-ordinators, the Catholic Secretariat and Bishop Ellison, the up-skilling of Nursery School teachers was identified as a priority area for future initiatives from The Gambia Ireland Volunteers in Education (GIVE).
Through Bishop Ellison's intervention, it was agreed that the first series of workshops in Nursery Education would be delivered through the organisation of The Catholic Education Secretariat. Catherine Njie Haffner, Nursery Education co-ordinator at the Catholic Secretariat, became the contact person in the Gambia and a working group of three Irish and one English Teacher took on the task of designing and delivering the workshops. Catherine Njie was responsible for selecting the Nursery School Teachers to attend the programme. She was also responsible for the organisation of venues, materials, transport logistics and food for participants.
Workshops
The primary aims of the workshops were to share current thinking on how young children best learn; to illustrate the benefits of active learning, to facilitate the creation of teaching/learning resources from materials in the local environment and to facilitate the sharing of skills among teachers in Nursery Education; Every effort was made to respond to the topic list submitted to the working group by Catherine Njie and to work from the Nursery One, Two and Three Scheme which forms the Syllabus for Catholic Mission Nursery Schools.
Workshops were delivered, starting the week of January 23rd 2012, to three different groups of teachers. Eight Nursery teachers attended the first week. Sixteen teachers attended the second week. Both these weeks were based at the Catholic Secretariat in Banjul. Week three was devoted to working in the Nursery Schools with the workshop participants. Week four was based in Bwiam 115 km from Banjul, twenty four teachers attended. As many as possible of the relevant Nursery schools were subsequently visited.
The content of the workshops was primarily based around Literacy and Numeracy skills. Workshops were delivered on Oral Language, Reading and Reading Readiness including Rhyme, Story and Phonics ( there was a particular interest in the Jolly Phonics Programme) Number, Planning, Classroom Management, Physical Education, Handwork and Handwriting. It was agreed that an introduction into nursery pedagogy would set the scene for the workshops. This provided a great starting point from which to base a programme that had confidence building, self esteem, nurturing and stages of development embedded in it.
Many of the workshops that were delivered used a range of teaching methods so that the teachers could see the different methods in practice. For example a lesson on shape demonstrated how the use of multi sensory activities would enhance the lesson. During workshops teachers were encouraged to engage in activities which would allow them to be physical and this was used to demonstrate how young children need to be active in their learning.
Where ever possible visual images were used and promoted in an effort to help teachers understand the range of learners in a classroom (visual, auditory and kinaesthetic)
Workshops lasted three and four days. The feedback from the groups (written on post-it notes) was extremely useful as we were able to adapt accordingly and explain any misconceptions that individuals had. Resource making was an integral part of the workshops and it was during this time that participants were able to discuss their roles and schools.
The workshops held in Bwiam, in our fourth week, gave us an opportunity to experience living and working outside Banjul. Catherine Njie and her colleague, Mr.Gibba, travelled with us. Transport was provided by the Catholic Secretariat. The venue in Bwiam catered for teachers from outlying areas. The teachers were particularly pleased that an effort was made to provide workshops that did not entail travelling to Banjul. Accommodation was provided for all at Bwiam Lodge. This is a conference centre, run by Child Fund which offers lodging and catering facilities. Sharing this accommodation with the teachers gave us an opportunity to get to know them socially and to exchange ideas
On our first evening in Bwiam we met Mr.Henry Sanyang, a Cluster Monitor employed by the Catholic Secretariat. His role is to oversee the standard of education in Catholic managed schools in the Foni area. Mr Sanyang is the first cluster monitor employed by the Catholic Secretariat. It is planned to employ more in the future. The cluster monitor system is similar to that operating in schools under Ministry of Education management. Both Mr Gibba and Mr Sanyang took a particular interest in the workshops and attended most. Mr Sanyang is compiling a report and we hope to receive a copy of this.
The workshops took place in a hall attached to the local Higher Basic School and followed the same programme as those held in Banjul The group was made up of twenty four participants, thirteen of these worked in Catholic Secretariat nursery schools. The remaining eleven were attached to Child Fund sponsored nursery schools. There was a good mix of men and women. The older and more experienced participants brought wisdom and confidence to the group and were particularly forthcoming in their contributions which helped to open up discussion. The younger less experienced teachers benefitted from the enthusiastic participation of these teachers.
Visits to Schools
Nursery schools are a private pre-school facility for children in the 3-7 age range. They are designed to provide education over three years and prepare children for lower basic education. A small fee is payable. However, there are families who cannot afford this fee and whose children do not attend nursery school. There is an appreciation of the role of play in early childhood development but the equipment and skills to provide this are available in very few schools. The educational expectation of nursery schools, as reflected in the curriculum documents developed by the Catholic Secretariat, is more in line with the expectation of early years in lower basic schools. This is also the expectation of parents and society. Many of the teachers are not trained. They are very keen to attend training workshops where they benefit from the training given and invaluable contact with their trained colleagues.
Visiting the schools was interesting and informative, it helped us to appreciate the work done by the teachers and the challenges they face. Teachers impressed us as dedicated, some were outstanding. Many were challenged in their curriculum delivery by class size and few or no resources e.g. lack of seating and tables in some classes, two classes in one room in some cases, no blackboard in another room. Teaching methods were limited by the need to manage the large numbers in the class and were primarily repetitive involving rote learning. Copying from the board was used to teach writing. Independent writing was not observed. In schools where phonics teaching and learning was observed, the teacher was not linking this to reading and writing.
Where sponsorship was available, we found some very well equipped nursery schools. The disparity between schools was striking.
It was heartening to note the positive response of teachers to our workshops and to see them using materials made in the course of the week. Teachers also employed methods learned during the workshops e.g. classroom management strategies, sound buttons when teaching CVC (consonant, vowel, consonant) words and the development of a reading area. Many schools had very few or no reading books available to the teacher or children. In schools where reading/ story books were evident they were not being used independently by the children. As part of our workshops on reading, story and development of resources, teachers made their own books, it was good to see these in use in some classrooms visited. One teacher in particular had already made a number of books and had placed these in the reading area.
The teachers made us very welcome in their schools, the children are lively and responsive and take delight in singing for visitors.
Looking to the Future
As noted in the introduction to this report, the decision to hold workshops for nursery school teachers in 2012 grew from the experience of a group of teachers in The Gambia in 2011 and requests made at that time to develop workshops for Nursery School Teachers. We responded to these requests by preparing and holding these workshops. In many respects this was a pilot project. We must now assess the work done and see how we can best develop the work for the future.
The areas of the curriculum covered (noted in this document) were in response to a list sent to us by Catherine Njie Haffner, the coordinator of Nursery Education for the Catholic Secretariat.  There was a particular interest in phonics.  We were a little reluctant to get involved in the programme used in Lower Basic Schools – Jolly Phonics. We were concerned that the children would be singing the same Jolly Phonics songs for three years in the nursery school and again for a number of years at Lower basic level. We offered an alternative method of teaching phonics, but this was rejected in favour of Jolly Phonics. This is a point that we would like the Secretariat to consider.
On our many school visits we took the opportunity to ask teachers for their comments on the workshops with a view to how we might respond to their needs in the future. All teachers responded positively. They were very pleased to have attended the workshops and reluctant to offer advice. This was probably out of good manners and a wish not to offend us in any way.
From our experience this year, both in the workshops and during the follow-up visits to schools, we make the following points and would like them to be taken into consideration in any future development of this programme.
Workshops are an effective way of reaching and working with a number of teachers.
Workshops allow teachers to reflect on their practice and facilitate the introduction of new methodologies.
Workshops provide a space for teachers to interact with each other and learn from each other. They are an opportunity for discussion and encouragement.
Workshops increase knowledge and skills and affect attitudes
From our experience this year, we would advise that any future workshops should have a strong emphasis on active learning
As far as possible, workshops should be conducted as models for good practice, using locally sourced/made materials. Clear demonstration of how to use materials and opportunities for teachers to engage in activities and model their own practice within the group could be facilitated.
School visits, though informative and interesting, gave little opportunity to work with the teachers. It would be worth considering bringing a number of teachers together in a school and modelling a number of lessons for the group using methodologies and materials as used in the workshops.
If numbers of volunteers allow, it would be advantageous to organise the workshops in such a way that some would follow up by spending a number of days working alongside course participants in the classroom.
We recommend that tutors in the future should make at least two school visits each before the start of workshops. This should ensure that there is a deeper understanding of different school circumstances and the challenges facing teachers.
We found three day workshops too short to cover the breadth of work involved. We recommend that four day workshops be considered.
We recommend that the group who attended this year be given the opportunity to do a follow up workshop in the future to enable them to develop the skills required to conduct step-down workshops.
Any future group would benefit from a fund to cover the cost of materials. The Catholic Secretariat supplied some materials. The tutors also supplied materials at their own expense
Trainee teachers could be utilised to teach small groups of children thus reducing class sizes.
Teaching workshops on developing thinking skills, problem solving, planning for differentiation and assessment and phonics into reading could enhance the work of the teachers in The Gambia.
The learning targets and activities in Nursery Schemes one, two and three are ahead of what is expected from children of like age in Ireland. In the early learning environment it is recommended that greater emphasis be placed on pre-number, pre-writing and reading readiness skills as a foundation for future acquisition of literacy and numeracy skills.
The following is a list of materials needed to prepare for and run workshops
Laptop, printer and photocopying facilities.

A4 paper

Blackboard and chalk

Chart paper and markers

Pencils, crayons coloured pencils

Card

Scissors

Glue

Splayed pins

Sellotape.

Stapler

Post its

Laminator (?)
Conclusion
In conclusion the Nursery Education Workshop Team is of the opinion that the work done was worthwhile and well received. We are grateful to Bishop Ellison, Mr. Emil Kujabi, Ms. Catherine Njie Haffner, and Mr. Gibba for welcoming us to the Secretariat and for supporting us in the work we did, Sally was a most patient secretary. We also thank the participants who were so enthusiastic and sharing. The experience from our point of view was informative and enriching. We recommend further workshops with a strong emphasis on active learning using locally sourced resource materials. We are very pleased to have helped initiate, develop and deliver this project.
SKILL CENTRES
Skill Centres have been part of the Education System in The Gambia since the 1980's.  There are many Government and private institutions in the vocational and technical areas that cater for students who have completed their secondary education. Skill Centres, on the other-hand, cater for students who do not complete their basic education ranging in age from 16 to 20.
The Skill Centres are local initiatives catering for the needs of the local community.  They broadly equate to the emergence of the Post Leaving Course sector in Ireland in the late 1980's.  They do not, as yet, have a common awarding body like FETAC.  The Centres have no formal accredited awards.
These Centres are mostly located in the grounds of existing Lower Basic Schools.  The curriculum varies according to the Centre.  One common theme is basic literacy and maths and all subjects are taught through English.  In addition, practical skills are taught which greatly increase the students' prospects of getting employment.  The practical subjects taught include batik production, embroidery, sewing, tie dye, crafts, cooking, typing, computer skills, business studies and secretarial skills.  Most class sizes are under 20 students.  Items produced in class such as patchwork products, scarves, tie dyed material, embroidered purses, food, etc are sold at reasonable prices in the Centres with the money being used to fund the Skill Centre.  The two Centres we worked in were St. Peter's in Lamin and St. Charles Lwanga in Fajikunda.  They offer courses to girls aged 16 to 20 years.
Four members of the group worked in the two Skill Centres this year.  Both Centres are attached to existing Lower Basic Schools run by the Catholic Secretariat.  The majority of the students come from the local area, however, some travel long distances in order to join this much sought after "last opportunity of education" option in education.  They would not have a similar Centre in their own area.  Their educational standards vary greatly but generally they have many difficulties with English and Maths.  Lack of relevant textbooks is a further drawback.  Three of the group were involved in teaching English, Maths and Computers in the two Centres.
Ciaran Black travelled to The Gambia with the first GIVE group in 2011.  Whilst there he was based in St Peter's Skill Centre.  As a result of this experience he personally fundraised in Cork in 2011, and with the proceeds he set about improving the infrastructure of St. Peter's Skill Centre and he returned in October, 2011.  Ciaran teaches English every day to two classes.  With the donations he received he has been able to install windows in the classrooms, potholed classroom floors have been repaired and tiled, replacement desks commissioned locally, modern ladies toilets installed and the leaking ceilings are presently being replaced, relevant books were also purchased for the students.  With these improvements the Centre's structure has been brought up to modern standards.
Looking to the future
The Skill Centres do a very good job in training students in practical skills for the workplace.
The Centres have very few resources.  Even the use of electricity in IT classes has to be limited as it is very expensive.
The help given by our group is much appreciated by the Centres and they are very appreciative of any practical help they can get.
There are real opportunities for volunteers in the area of English and Maths as standards are very poor.  An ideal opportunity also exists for TEFL teachers in this area.
Volunteers with IT skills and other practical skills are also very welcome as they can assist teachers and also work one to one with students in the classroom.
New computers and access to the Internet are required with the aim of providing accredited IT and Secretarial courses due to come on stream in the future. These courses will prepare the students for employment.
There are more than 19 other Skill Centres in the greater Banjul / Kotu area which we did not get a chance to visit.  There may be opportunities for teachers with other qualifications which they can bring to the Skill Centre.
The help given by our group was worthwhile, enjoyable and very much appreciated.  There is a clear need for further support in this area. It is hoped that many more volunteers with a wide range of skills will become available to fulfill this need.