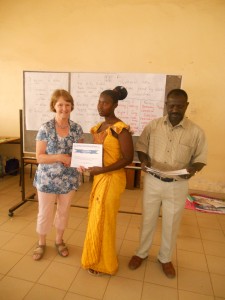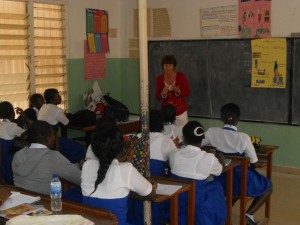 Volunteering
Join us in any of the following areas:
Early Childhood Education
Lower Basic Primary
Classroom Teacher Support
Skills Centres
Certification on
Completion of Workshops                                                                        Romy giving English Class
Fundraising:
If you wish to fund raise for GIVE we would be delighted to help and advise in any way we can. All fundraising must be authorised by the Board of Directors. Before any fundraising event is undertaken you must complete the fundraising request form below.
Accommodation in The Gambia
To date teachers have stayed at the Bungalow Beach Hotel and Mansea Hotel.
Alternative accommodation is used for up country Workshops.
If you wish to participate in any of the volunteering areas above please complete the contact us form or email giveireland@gmail.com